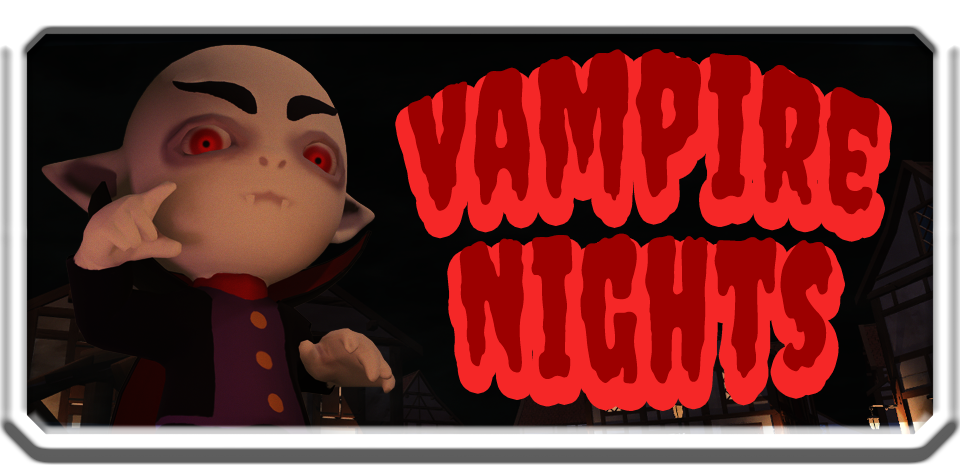 Vampire Nights
A downloadable game for Windows and macOS
About the Game
Vampire Nights is a stealth single-player game where you play as the adorable Count Dracula. You are a creature of the night with a thirst for blood. Luckily for you, you've found a village with plenty of people to snack on. But the guards keep a watchful eye on their herd, and you need to hunt smart or end up spiked. Once the nightly hunt is done, return to your lair or get toasted by the unforgiving sunlight.
This game was developed by game programming and artist students at Yrgo as a seven-week project.
Features
Suck the blood of civilians, but beware of the patrolling guards.
Hide the bodies of your victims or these might be discovered and blow your cover.
Charm the villagers for a limited time, let the prey come to you.
Transform into a bat to escape, just make sure no one sees.
Controls
Move: WASD
Run: Shift
Interact: F
Charm: E
Batform: Q
Artists
Frida Karlsson
Isak Alfredsson
Josefin Ramsberg
Ted Lai
Programmers
Axel Eriksson
Christer Högberg
Joakim Stenmark
Nicklas Hidesjö
Robert Sandh
| | |
| --- | --- |
| Status | Released |
| Platforms | Windows, macOS |
| Rating | |
| Authors | Yrgo_Game_Creator, Frida Karlsson, JoakimStenmark, NicklasHidesjo, AlmostGosu, isALF, Stargaze99, SaRobban, vemode, Mellowtide |
| Genre | Strategy |
| Tags | Cute, dracula, flat-shading, gothenburg, Singleplayer, Third Person, Unity, Vampire, vampire-nights, yrgo |